Welcome to the Delaware Early Childhood Center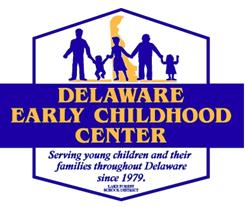 The Delaware Early Childhood Center (DECC) has operated statewide since 1979 and has been recognized at international, national, state and local levels for leadership, vision and innovative programming. Delaware Early Childhood Center's main focus is to provide children and their families with the skills they need to succeed in early education and provide a foundation for future success as they continue through school.
Our mission at the Delaware Early Childhood Center is to identify and build on the strengths and interests of young children and families through partnerships, education, services and support in order to enhance their lives in the community.
We apply principles of service that are:
Family centered

Strength and interest based

Culturally inclusive

Community based

Developmentally appropriate
DECC services and programs have been funded over the years by such agencies as the Department of Education, Department of Health and Social Services, Department of Services for Children, Youth and Their Families, Delaware Developmental Disabilities Council and local education agencies.
DECC is here to serve Delaware's young children and families. We invite all interested parents, professionals, and members of the community to explore our website to get acquainted with us, our program mission and principles and learn more about all the programs DECC has to offer.