Welcome to Lake Forest High School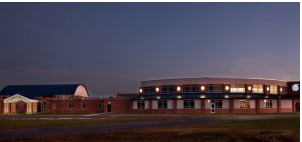 About Lake Forest High School
Welcome to the Lake Forest High School website. Lake Forest High School serves roughly one thousand ninth through twelfth graders of the Lake Forest School District community. We are located in the town of Felton, approximately 13 miles south of Dover, Delaware. Students are offered an extensive number of curricular and co-curricular programs creating countless opportunities.
Lake Forest High School is a wonderful place to teach and learn. A great contributor to the school's greatness is the strong support from parents and guardians, school personnel, district administration and board of education. The faculty and staff are committed to providing a learning climate to help students develop the skills and attitudes of successful citizens in a global environment.
Our curriculum offers: » 8 Advanced Placement Courses » 20 Honors Courses » 2 Foreign Languages (French I-IV, Spanish I-IV, AP)
Lake Forest High School has a rich tradition in academics and athletics. Athletics are a vital part of a high school. We are actively and aggressively building the quality of our program and sportsmanship in our athletes. Male and female athletes compete in:
The Spartans have a proud tradition of sportsmanship and competition with playoff appearances, conference and state championships in various sports.
Academically, our students have also excelled. Lake Forest High School students have earned millions of dollars in scholarship and award monies. Lake Forest High School students have also earned recognition for their volunteer efforts, and have served on State and National levels within their student organizations.
We are committed to being the pride of the neighborhood. Our students are active participants in building school interest and spirit, and our community leaders are proud partners in helping build excellence in this school. We are "your best choice".